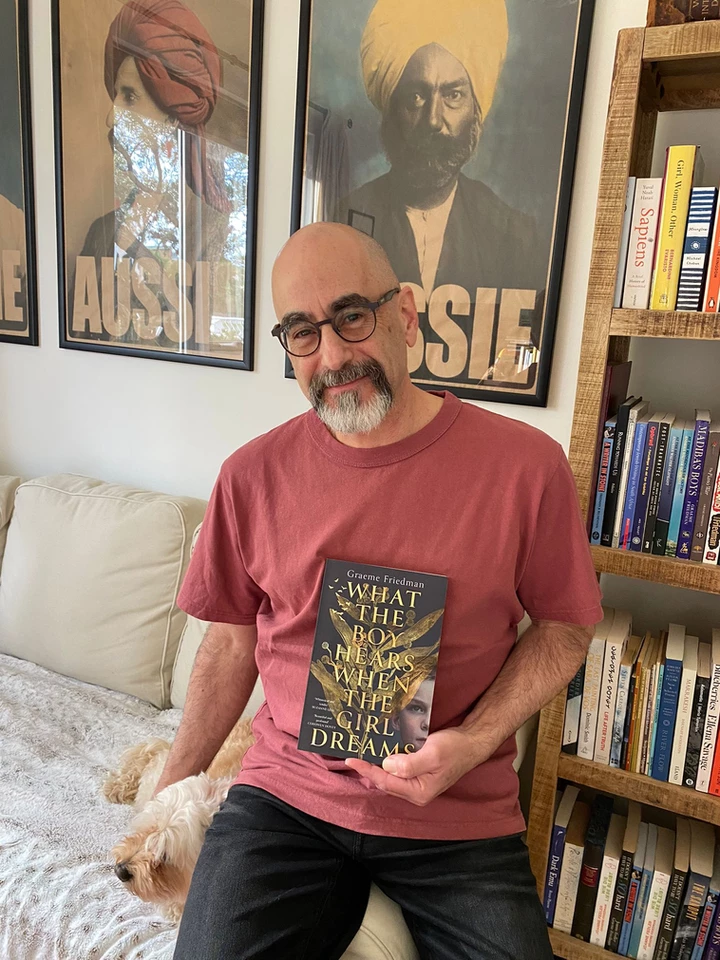 1. Can you share a little about your authorship journey to this point?
I cut my writer's teeth on short stories and was lucky enough to win a couple of prizes and have several of these published in anthologies. My first published books, though, were works of creative nonfiction: The Piano War, a true story of survival during the Holocaust, and Madiba's Boys, in which I used the stories of two footballers to tell a broader tale of apartheid in South Africa and the use of sport in the transition to democracy. I returned to writing fiction with The Fossil Artist, a story about crime and authenticity, what it means to be human and how we come to love. I seem to be alternating fiction with non-fiction, because what followed was a book about relationships, co-authored with my great friend Joanne Fedler, in which I've shared the insights from my career as a psychologist. And now that my Australian-set novel, What the Boy Hears When the Girl Dreams, is out in the world, I am returning to nonfiction with a memoir about my work as an expert psychological witness for the defence in political trials of the apartheid era in South Africa.
2. What is the inspiration behind What the boy hears when the girl dreams?
As in all my writing, I'm obsessed with social and political injustice. I want to tell stories of ordinary people who are touched by broader societal issues. In What the Boy Hears When the Girl Dreams, I wanted to tell a story that would stir the reader to think about the part we all play in the suffering of those less fortunate than ourselves and was looking for a sympathetic character who could journey from a state of naivety to one of self-knowledge. Giving 12-year-old Finn, my central protagonist, 'super-hearing', was sparked by a Radio National report on an actual medical condition, and one of those wonderful moments writers have when we chance upon just the right thing to anchor our story.
3. Can you share some of your favourite books?
There are so many! These come to mind: If Nobody Speaks of Remarkable Things by Jon McGregor, The History of Love by Nicole Krauss, Pat Barker's The Regeneration Trilogy, Haruki Murakami's Kafka on the Shore, and Night Boat to Tangier by Kevin Barry.
4. What is your writing routine?
I split my week into days in which I do my work as a clinical psychologist, and others as a writer. When I sit down to write, I usually start with a cup of coffee (which invariably ends up getting cold), a pile of nuts (or chocolate, if I can get my hands on some!), and a soothing instrumental soundtrack, all of which sweetens the transition from the real world into the imaginary one. It helps to have Ziggy, our family dog, curled up at my feet.
5. Can you share something that is on your bucket list?
I'd love to kayak with my family on Lake Malawi, in the country where Buseje, the young African asylum seeker in What the Boy Hears When the Girl Dreams comes from.
6. What advice do you have for aspiring authors?
Read, read, read. And join a writers' group. My writing mentor used to repeat what his mentor told him: 'for the first ten years, you write for the rubbish bin.' So be patient and learn your craft. Write because you love language and story, not because you think it's a glamorous life. It's not. It's just like the rest of life: full of joy and suffering.
7. Is there anything else that you would like to share?
Stories are wonderful things – they're not just there to entertain but they are the main tool helping us make sense of our world. But stories can be used for good and for destructive purposes, and what concerns me most at this time is the way in which politicians, who seem to be more worried about their own jobs, spin stories that prevent or delay the vital changes needed to save the world from burning.
8. What are your social handles?
Website: https://graemefriedman.com
Twitter: @GraemeFriedman
Instagram: graemefriedman
Facebook: @graemefriedman.author