We asked illustrator Veronica Rooke what it was really like illustrating My Silly Mum for Monique Mulligan (you can read Monique's side of the story here).
How would you rate the experience of illustrating My Silly Mum?
Veronica: I've loved creating the illustrations for My Sillly Mum. Getting the right look to characters is important.
Monique felt that my first sketch of Mum was too 'goofy'. Mum needed to be silly, yet loveable.
What's more important – words or pictures?
Veronica: I feel that the illustrations must weave around the words and one works with the other. This took several attempts too until we found an unusual mix of fun text and word balloons. The human characters had to match the text, but I had complete freedom with Tiddles the cat and the mouse. They turned into a great tools for humour.
What draws you to children's book illustrations?
Veronica: I love the idea of merging text with art. It's facinating that a story is created from just an idea and can be made into a book that a reader can get lost in. It might be a world that mirrors ours or be a new one with it's own rules.
Are the text and illustrations equally important?
Veronica: Yes, but by its nature, art can easily overpower the text. The story dictates the look of the illustrations. One story might be soft, so needs that type of art. While another would need bright, colourful illustrations if the story had a heavy subject or was fast-paced. My Silly Mum needed a soft look that gently enhanced the humour in the text.
Who's your favourite character in My Silly Mum?
Veronica: I looooved Tiddles the cat! The girl and mum had to be linked to Monique's text, but Tiddles was free and could add another layer to that humour.
What's your illustration process like?
Veronica: I start with a 1st draft just to get characters in the right place on the page. Then the rough fills in their details and the colour is the final stage.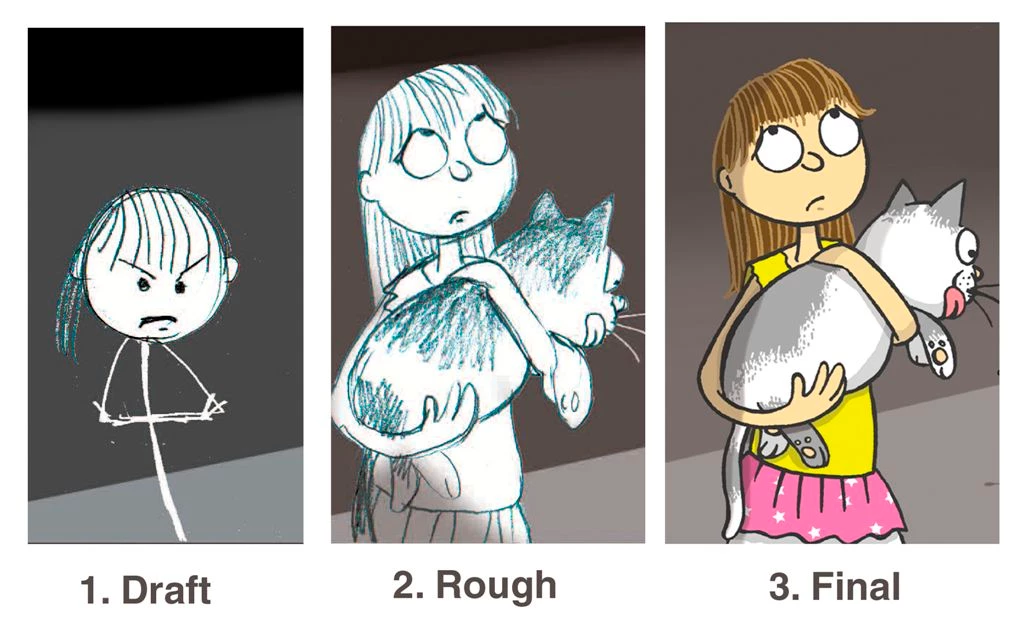 Visit Veronica's Facebook page for more of her insights and humorous pictures.